BY the time you see hair loss, it's too late.
You can't grow back hair from follicles that are no longer there. Whether it's caused by aging or a genetic thing (you get it from your mom), keep in mind that a few bald spots doesn't make you less of a man—denial does.
So embrace your follicular difficulties. It's cheaper, too, because your other viable options are lifelike, semi-permanent hairline tattoos or a virtually painless hair transplant by robots. Don't even think about wigs. Hats are a stylish option, but keeping it hot up top can potentially hasten the shedding.
Acceptance does not mean giving up with a donut on your head. (Trivia: Both men and women are programmed to never lose hair on the sides and back of their heads, thus the donuts.)
Put your barber to the task. A full shave isn't the only way to go, but the general rule is to keep it short and fresh. We understand the need to baby your few remaining strands, but you're not fooling anybody. Keeping it short also gives your hair some lift, making it look like you have more; a comb-over of your five strands does not.
You have options. Just take a look at these guys.
Problem: Large Bald Spots 
Solution: The Clean Shave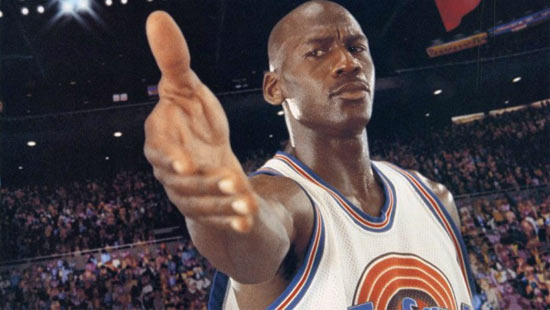 Applicable for men that just don't want to give a damn and can handle looking like a sports star or an action star. You never have to style your hair again. And you can wash your dome with the same soap you use on your body or the cleanser you use on your face. To keep it nice and even-toned like Mike, slather some SPF on it.
Problem: Large Bald Spots
Solution: The Buzz Cut 
If you don't feel like you can pull off a clean shaven look (or have an irregular head shape) but still want something simple, the buzz cut gives you the same clean yet edgy look that can still get the ladies—and also keep bad guys from having anything to hold on to (life can be an action movie sometimes). If the crown is where balding occurs, keep the back and sides short, fading up a little longer toward the top of your head. 
Problem: Large Bald Spots 
Solution: The Look-Here Facial Hair  
The facial hair directs attention from your balding head to your face. Mustaches and goatees work best. 
ADVERTISEMENT - CONTINUE READING BELOW
Source : http://www.spin.ph/active-lifestyle/active-lifestyle/6-best-haircuts-for-thinning-hair-src-esquireph